NAND Flash Controller Solutions for CFast Cards
CFast controllers for CFast cards and other SATA based NAND Flash storage applications
NAND flash controllers for CFast solutions guarantee a reliable removable-card form factor similar to CompactFlash. Due to its ruggedness, it remains a popular form factor for industrial applications that require higher performance than CF but need the same mechanical and electrical sturdiness. CFast 1.0 is based on the Serial ATA (SATA 2) interface instead of PATA. The pin-out is different from a CF card, with a 7-pin data connector and a 17-pin power connector. CFast and CF cards are not directly compatible, but an adaptor can be used. As SATA can also emulate PATA command protocol, it is possible to use a CFast card in older CF systems. For CFast 1.0/1.1, the maximum transfer rate is the same as SATA 2.0, 300 MB/s, therefore it gives better performance than CF/PATA, which is limited to a maximum transfer rate of 167 MB/s. CFast 2.0 was introduced in 2014 and uses SATA 3.0 (600 MB/s). 
Download our FREE White Paper on Form Factors and Governing Bodies
CFast Controller | A2 NAND Flash Memory
Controller
Hyperstone's SSD Controller the A2 is provided with flash specific firmware and offers an easy-to-use turnkey platform for high endurance robust flash drives and solid state drives.
Smallest and most power efficient SSD controller
Patented superior read and write wear leveling together with up to 24-Bit ECC ensuring highest reliability and endurance
Exceptional power fail robustness & superior wear levelling
Optimized 32-Bit RISC core, instruction set and firmware for flash handling
4 channel controller provides optimal performance for target applications
Most power efficient design together with power saving features
Custom features can be implemented with simple firmware upgrades
ASSP with minimal external active components
Turnkey solution including firmware, manufacturing kit, test and development hardware, and reference schematics for applications such as 2.5" SATA solid state disk (SSD), MO-297, MO-300, and CFast.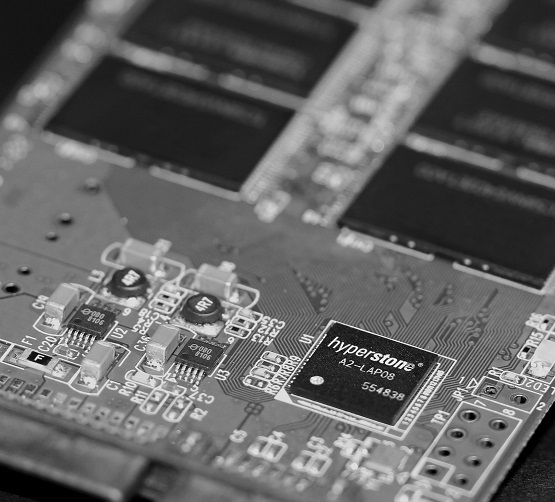 OUR HEADQUARTERS
Konstanz, Germany
CALL US TODAY
+49 7531 9803 0
EMAIL US
info@hyperstone.com