Reliable NAND Flash Controllers for SATA based SSDs & Industrial Storage Solutions
Robust NAND Flash Controllers for Serial ATA Solid State Drives (SSD) and SATA based modules. Reliable Flash Management is an essential in guaranteeing an efficient and reliable storage solution.
Hyperstone offers SATA NAND flash controllers complying with highest standard industrial quality, which can serve as a mass storage device of any industrial product. Furthermore, all Hyperstone's SATA NAND flash controllers operate in CFast cards, which bring the fixed drive SATA standard to removable drives. Widely known as an alternative for Hard Disk Drives (HDD), SATA offers much more. It can be used in different form factors from 2.5'' SSD, M.2 modules to embedded SATA flash drives. It offers a high performance combined with attractive package solutions. 
A2 NAND Flash Controller
Solid State Disk (SSD) and SATA II NAND Flash Controller
Small and power efficient SSD NAND flash controller
Patented superior read and write wear leveling together with up to 24-Bit ECC ensuring highest reliability and endurance
Exceptional power fail robustness
Optimized 32-Bit RISC core, instruction set and firmware for flash handling
4 channel controller provides optimal performance for target applications
Most power efficient design together with power saving features
S.M.A.R.T. features supported
Custom features can be implemented with simple firmware upgrades
ASSP with minimal external active components
Turnkey solution including firmware, manufacturing kit, test and development hardware, and reference schematics for applications such as 2.5" SATA solid state disk (SSD), MO-297, MO-300, and CFast.
Patented superior wear leveling together with ECC ensuring highest reliability and endurance
Learn more... →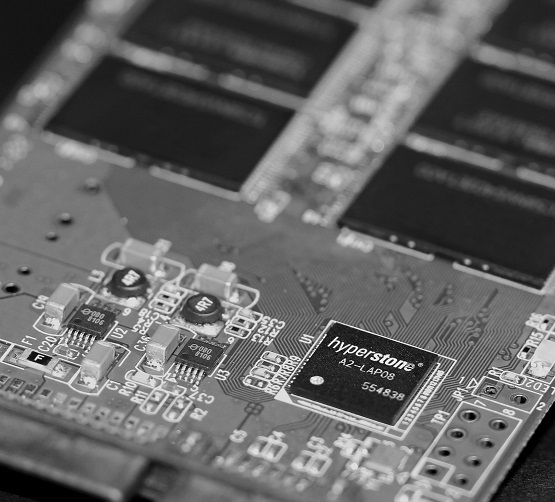 OUR HEADQUARTERS
Konstanz, Germany 
CALL US TODAY
+49 7531 9803 0
EMAIL US
info@hyperstone.com