USB 3.1 NAND Flash Memory Controller
Reliable USB 3.1 NAND Flash Memory Controller for Industrial grade USB Flash Drives, eUSB Modules, MCPs & DoB Storage Solutions
The Hyperstone U9 NAND Flash Controller offers an easy-to-use turnkey solution for industrial, high endurance, and robust Flash Memory drives or modules compatible to host systems with USB 3.1 SuperSpeed 5 Gbps interface. 
Designed to fully satisfy industrial requirements and feature requirements
hyReliability™ Flash Management including superior wear leveling, read disturb management, and power fail management
hyMap® Flash Translation Layer and mapping offering second to none random write performance, minimal write amplification, and consequently highest endurance for random access heavy usage profiles (e.g. JEDEC Enterprise)
Flexible 96-Bit/1K BCH ECC engine supporting all Flash Memory requirements
Optimized 32-Bit RISC core, instruction set for Flash Memory handling
Continuously updated Flash Memory chip support and long term availability
High performance on-the-fly AES 128 and 256 encryption engine
16 GPIOs for customer specific applications supporting SPI, I2C and ISO7816 or additional flash CE
Application Programming Interface (API) and Software Development Kit (SDK) to develop own Custom Firmware Extensions (CFE)
Built-in temperature sensing capability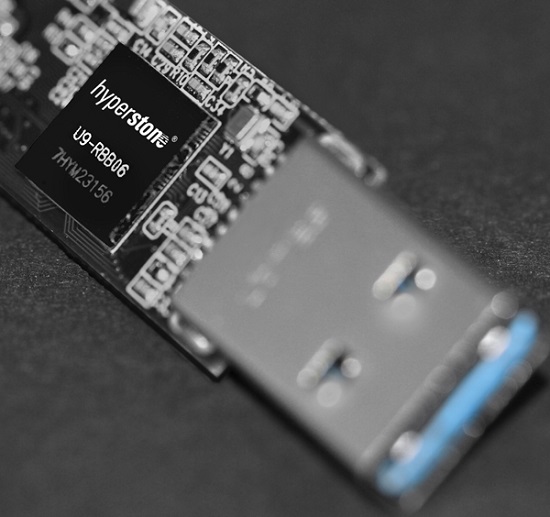 U9 Product Information
Target Application
Industrial USB Flash Drive
eUSB, embedded USB module
Ultra durable Flash Drive
Security Flash Drive
Multi-Chip-Package (MCP)
Disk-on-Board
Performance
Fully compliant with USB 3.1 Gen 1 specifications
USB mass storage device class (MSC)
USB Attached SCSI (UASP) support
SuperSpeed, High-Speed, Full-Speed
Host transfer rate of up to 5 Gbps
Sequential read up to 200 MB/s
Sequential write up to 150 MB/s
Sustained 4K random write over 5 MB/s
Secure Erase and Sanitize support
S.M.A.R.T. and health monitoring
-40 to +85 °C industrial grade version
Host Interface & Compliance
Compliant to USB 3.1 Gen1
USB mass storage device class (MSC)
USB human interface device class (HID) support is possible
4 configurable endpoints
Supporting Full-Speed, Hi-Speed and SuperSpeed 5Gbps transmissions
Bulk, isochronous, and interrupt transfer modes
USB Attached SCSI (UASP) support
S.M.A.R.T. Sanitize, and Secure Erase support using ATA pass through command
Configurable Early-Acknowledge to avoid any data loss during power fail
Controller & CPU
High performance 32-Bit Hyperstone RISC microprocessor
Large internal RAM provides firmware flexibility
16 GPIO pins for customer specific applications, multiplexed interface options include: 16 GPIO, SPI, I2C, 8x CE and ISO7816
NTC thermistor interface and ADC for high accuracy temperature logging and optimized read/write operations
Unique ID for security applications
AES-128 and AES-256 support with CBC and XTS modes, high performance on-the-fly encryption/decryption
Hardware RNG
Flexible clock frequency generation through internal oscillator and PLL
Automatic power-down mode during wait periods for host data or Flash Memory operation completion, automatic sleep mode during host inactivity periods
On-chip switching voltage regulator for 1.2V controller core power
Supply voltage 3.3V ± 5%
Application Programming Interface (API) and Software Development Kit (SDK)
Flash Memory & Interface Handling
Direct Flash Memory Access (DFA) co-processor incl. page buffers and interleaving capability
DDR interface compliant with Toggle DDR and ONFI 2.3, compatible with all DDR Flash Memory devices
Asynchronous SDR interface, ONFI 1.0 compliant compatible with all legacy interface Flashes
2-Channels with data transfer rate to Flash up to 200 MB/s each
Flexible 96-Bit/1K BCH ECC engine supporting all Flashes
CRC for additional reliability
Connection of up to 16 Flash Memory chip enables (CE, including 8 GPIO CEs)
Flash Memory power down logic and write protect control
Supporting all Flash technologies and all page sizes up to 16KB
On-chip voltage regulator for 1.8V Flash Memory I/O power
Flash Memory Management
hyReliability™ Flash Memory Management optimizing reliability, power fail safety, endurance, data retention, and performance
hyMap® Flash Translation Layer offering class-leading random write performance, minimal write amplification, and highest endurance for random usage profiles (e.g. JEDEC Enterprise)
Complete Flash Translation Layer (FTL) for random Flash data access including mapping of logical block addresses (LBA) to physical block addresses (PBA)
Bad Block Management
Static, Dynamic and Global Wear leveling to maximize write endurance
Intelligent garbage collection
Read Disturb Management, dynamic data refresh to maximize data retention and refresh data subject to read disturbance
Management of sudden power-fails
Interleaving, cache, and multi-plane programming
Firmware is stored redundantly for recovery and refresh
In-Field Firmware update without user data loss
Customized firmware, optimizations and feature implementations possible upon request.
Block Diagram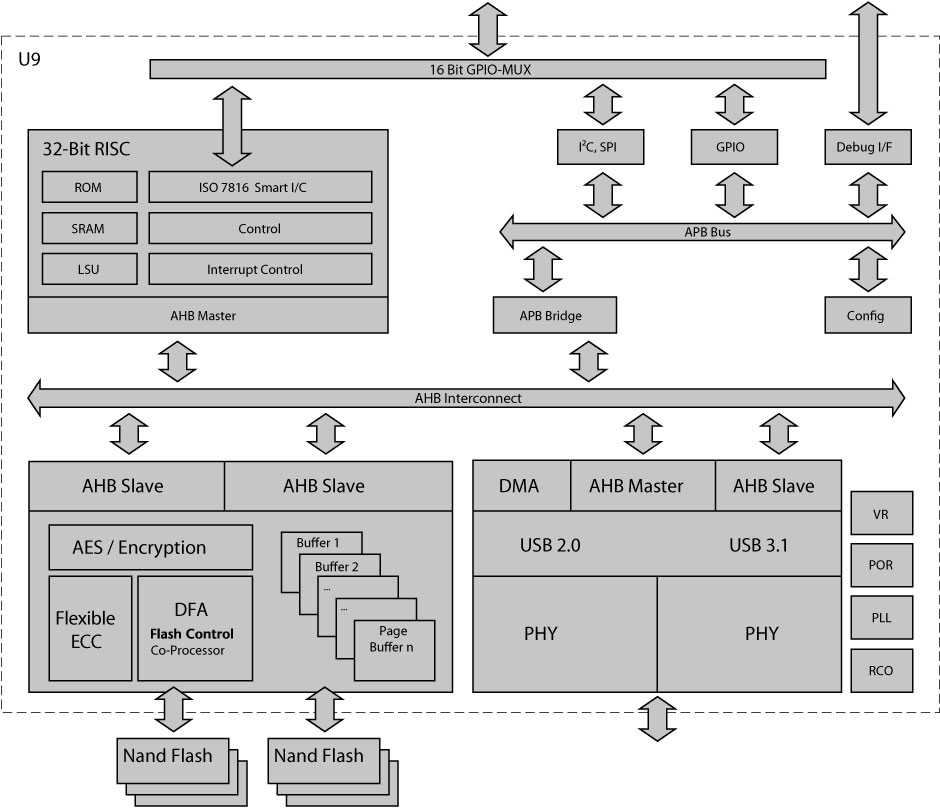 Order Information
U9-RBB06 (TFBGA-124, 9x9x1.2mm, 8 CEs, RoHS, -40 to +85 °C, tape-and-reel)
U9-RBB06-Y (TFBGA-124, 9x9x1.2mm, 8 CEs, RoHS, -40 to +85 °C, tray)
U9-0BBD0 (Tested Die / Wafer)
Transportation
Railway, Naval, Avionics, Mobile Automation, Agriculture, Telematics, Harvesting
Telecommunications
Base-Band Stations, Routers, Switches, Industrial Communication
Security
Encryption, Monitoring, Optimization, Protection, Access Control
IoT
Edge, Fog, Mist Computing, Connectivity, Networking, Security, Industrial Communication
Energy
Power Grid, Solar Panels, Wind Turbines, Decentralised Suppliers, SMART Meter, SMART Grid
Automotive
Navigation Systems, Infotainment, Instrument Cluster, Autonomous Driving 
Industrial Automation
Automation, Robotics, Production Machinery, Material Handling
Medical
Patient Cards, Blood Pressure Monitoring, Computer Tomography, Dialysis Systems, Patient Monitoring Systems
PoS / Gaming
Gambling Machines, ATMs, Ticketing Systems, Access Control Terminals, Cashier Systems